South Brevard Shrimping Hot Spots

South Brevard County in Central Florida season normally begins after Oak Hill and Haulover Canal slow down. The following tips & tricks were shared with the Academy Of Shrimping by members with decades of experience in these waters. Proceed with caution when navigating Sebastian Inlet or standing on a  bridge within strike distance of a moving vehicle.
March starts the season and it can last into June some years
April – May are the stronger months
Shrimp are landlocked & can be found any month but not in real great quantity
Shrimp are NOT landlocked near Sebastian Inlet
Where To Shrimp In South Brevard County
Hot Spot is Mather's Bridge, most consistent producing location
Traditional locations are Eau Gallie, Melbourne Causeway (US-192), Bennet (SR-528) Causeway in Cocoa.
New spot is at the Pineda Causeway near Patricks AFB
How To Shrimp In South Brevard County
Dip netting by both boat or bridge
Dipping is the worst at Pineda Causeway (limited space)
Frame nets not normally used water movement is weak & cannot remain open
Frame nets can be used at Sebastian inlet
Cast nets not used, summer white shrimp do not appear this far South
Traps used at all locations, Pineda Causeway is top hot spot for trapping
Influences on Brevard County Shrimping
Moon – Moon events seem to give us the advantage. Some will argue the waters are not tidal and the moon does not matter– Almost non-existent.  Water movement (current) is primarily determined by factors other than tide. Wind is one major factor but is affected by Newton's 1st all. Rainfall and the water temperature have an influence but the wind is the main factor for moving the water.
Winds – North wind works best for many with the South wind coming in a close second. East and West winds are least favorites. Winds over 5+ to 15+ is idea.
Temperature – between 60-80 degrees. Traps produce in water temperatures of 80-90 degrees. The shrimp remain all year to some degree
Rain – Affects visibility, can affect salinity, can be good or bad thing. Avoid lightening
Sebastian Inlet Shrimping
Strong tide flow,  Recommend you stay west of the bridge unless with local experience
Very dangerous inlet for novice, small craft hit rocks
Shrimp outgoing tide & during moon periods, go in advance of tide change
Anchoring around inlet is difficult, anchor bow to current
Water temperatures best between 60 to mid 70 degrees
Winds – North to South, East can be dangerous, West clouds water
Try to shrimp on the Lee shore
Mathers Bridge: [SR 518] [Eau Gallie Causeway] Connects Merritt Island Over the Banana River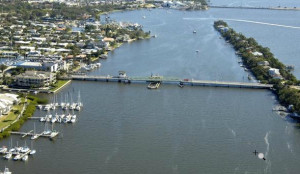 The causeway consists of a main bridge crossing over the Intracoastal Waterway and a relief bridge. The bridge is a key link in SR 518 Eau Gallie Boulevard, of which the causeway is a part.
Coordinates: Mathers Bridge
28° 8′ 57″ N

,

80° 36′ 22″ W




28.149167

,

-80.606111
Address:  Mathers Bridge is located on the southern tip of Merritt Island, Florida at the end of State Road 3/County Route 3. The bridge was built to connect Merritt Island to  Indian Harbour Beach.
The Melbourne Causeway is located entirely within Brevard County, Florida. It is composed of three bridges and connects the municipalities of Melbourne, Florida and Indianlantic across the Indian River Lagoon Brevard County.
There are two bridges in Melbourne, the Melbourne Causeway and the Eau Gallie Causeway (SR 518). The eastern most relief bridge is commonly used by local fishermen.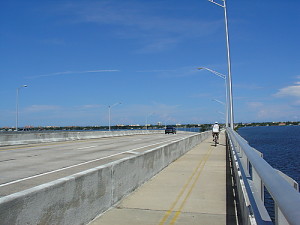 The SR 192 walking lane is a popular place for anglers to fish & shrimp. In close proximity to the Eau Gallie bridge.(SR-192 Melbourne south to Sebastian Inlet
Pineda Causeway

– (SR 404)
Latitude: 28-12'24" N
Longitude: 080-38'44" W
Decimal Degrees:
Latitude: 28.2066781
Longitude: -80.6456085
5.5 miles North of Eau Gallie Bridge, over the banana river
Connects mainland to barrier islands South of Patricks AFB
Shrimp on relief bridge (East side, Merritt Island side) on East side of Pineda Causeway
There are 3 relief bridges, but EAST one is the one popular for shrimping
Trapping and boating
Eau Gallie Causeway

– (SR 518) –
Shrimp off the East side of the Eau Gallie bridge relief bridge
South side of the relief bridge is the SAFE protected side from harms way
South side is protected with waist high concrete and walking area
North side is UN-PROTECTED, 2 shrimpers killed by vehicle on 04/20113
Dipping, trapping and boating
Eau Gallie Causeway Boat Ramp
Satellite Beach

,

FL

32937
Bennet Causeway – (SR 528) on Banana River
Shrimp on Merritt Island side, Sykes Creek area (middle of Merritt Island)
There is an old bridge North of 528 Causeway, shrimp hot spot, East of Sykes Creek
Suited for dipping or boating, traps (99%)
FACEBOOK SHRIMPING/SCALLOPING INTEL
Scalloping reports on Facebook at the "Florida Shrimping Academy – Tips & Tricks™". CLICK HERE. This is the largest group for shrimping, scalloping, lobstering and gator hunting.

WEBSITE VISITOR'S