Shrimping Lights For Sale – MacDaddy Smart Light™
Shrimping lights for sale have entered a  new generation of sophistication in the Fall of 2016. The light went viral during the 2016-2017 shrimping season. This shrimping light is factory made. The consumers  absolutely declared this light the best light they have ever used in the sport of shrimping & fishing.
Capt Lee Noga innovated a light that brought the power of a bomb, the toughness of a tank with computer driven options for every situation. "PVC tube lights have great limitations and restrictions" says Capt Lee Noga. It was time to abandon the garage built PVC spiral LED light.
Want To See The "SMART" Shrimping Light Video?
GENERATION – SHRIMPING LIGHTS FOR SALE
2010 – First generation LED spiral PVC tube light (60 Green, LED 14.4 watts)
2013 – 2nd generation LED spiral PVC spiral tube light (Green/White LED's)
2016 – 3rd  generation LED light – Metal Frame & Computer Controlled, 5 Functions
4 patents pending as of Sept 2017
"NO MORE PVC TUBE LIGHTS" says Capt Lee Noga – " 2010 Spiral wrapped DIY made lights are NO longer State of The Art – there is a new Sheriff In Town"
The most advanced sophisticated light engineered by local sports icon Pro Angler, Capt Lee Noga. She has solved a multitude of problems with every generation light preceding the release of the smart light. She did not just import a light, she collaborated with several top engineers and developed & manufactured a light from scratch aimed at solving long standing problems and issues with ALL our shrimping lights dating back to the first one released in 2009.
The spiral wrap LED shrimping lights will always be a favorite build for DIY folks. For 6 years commercial shrimping lights were built by local entrepreneurs in their garages. Spiral shrimping lights are not designed nor built for heavy use. DIY built lights lack quality control. They are with limitations based on the skill level of the DIY engineer and the parts they can purchase.
See the "Older generation 2010" spiral picture picture below
The older spiral shrimping light creates a lot of "negative"  (dark) space between the LED's.
This creates a light field that is dull. MacDaddly light has diodes close together amplifying the light field
We had know idea this was problematic until we placed the MacDaddy smart shrimping "high definition" light to next to it. You can see this negative space in the above video.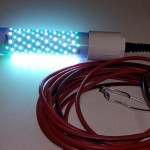 See the dark un-lit areas, for the size of this light the area has a lot of space not lit due to the large size of the automotive diodes. MacDaddy shrimping lights uses light panels with high intensity diodes found in traffic lights. See panels below in next picture. They are flat and not raised and dipped in special blend of acrylic used for 7 years and perfected against premature yellowing.
NEW GENERATION SHRIMPING LIGHTS FOR SALE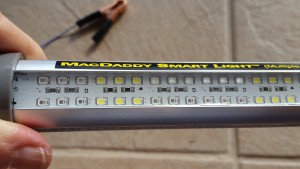 Capt Lee Noga felt the shrimping light was no longer evolving. The shrimping industry had proven the need for a high performing shrimping light. The problem was 1 spiral light was built in 2012 with 2 colors and many companies started to flood the market using this standard. Consumers were getting frustrated with the spiral shrimping light over the years for a multitude of reasons.
It was time to innovate a light that solved the problems the consumers have wanted to see changed for years. The building of lights had to be moved to a factory & engineered to fit the demands of the night time angler. The spiral shrimping light was to specific for Central Florida, and over powered the light field for those shrimping in shallow waters or off bridge and piers.
"SMART" Shrimping Light Modes: Computer Controlled
FULL power green and white LED's ON (preferred mode for shrimping, deep water 10+ foot and deeper) –  Mode 1 (BLINDING it is so intense)
ALL GREEN LED only –  Mode 2
ALL WHITE LED – Submersible use and LAND USE for camping, or emergency stern light, or work light to change tire on the road at night – Mode 3
HALF power green and white (shallow water for piers and cuts) – Mode 4
FLASHING – boil up shrimp, signal night diver, signal down passing boat or tow, warn boats at night your nearby –  Mode 5
Stainless steel button near clips, stainless steel button to cycle thru the different light modes. Easy replacement, 2 screws and auto re-syncs to computer. FREE replacement buttons.
Yellow LED in below picture are the white LED's, the clear ones are the green. Every group of 6 LED's is a different color.
Universal Multiple Platform Specifications:
Fishing Light – Defaults to sinking & drifting in current, 33 foot cord
Shrimping Light – Accessorized to float upright, bottom attachment hook & split ring for 8 lb anchor to keep light from drifting, 33 foot cord
Tactical Light – Camping, change a tire on roadside, hurricane light in white mode only
SHRIMPING LIGHTS – SMART SPECS
12 Inch Smart light, computer controlled (5 features plus LED test mode)
Tested to a depth of 100 feet.
Metal frame dipped in acrylic glue
Multiple patents pending
Dual purpose FISHING & SHRIMPING light
FREE Black zipper case for storage
Weighs – 10.3 ounces! Packs the power of a case of dynamite
Complete setup – GO from us to the water, NOTHING ELSE TO BUY
GREEN LED: 144 PCS/LED's green LED, Brightness: 2200LM pre-assembly
WHITE LED:  72 PCS/LED's white, Brightness: 1700LM pre-assembly
Watts: 40, Amps Max 3.3
Modes : Modes: 1. both colors FULL POWER 100% lighting; 2. green lighting; 3. white lighting; 4. both 50% HALF POWER lighting; 5. both colors flashing
White Mode: Land and water use! Use for camping, hurricane light, work light, or stern navigation light. Metal Gets Hot – can burn hands.
Light defaults to sinking for fishing, converts to a floating shrimping light with accessories
Long-line Clip to set depth on pot line INCLUDED
Shrimping Float accessories included
Two Solid copper clips
Stainless steel button near clips to cycle thru various options/modes (2 screws, easy to replace), we will provide free replacement
Light contains hook attachments on both end caps
Top hook for shrimping float to keep light vertical in water column
Bottom hook for counter weight (included) and anchor line/weight (not included with this light), we sell the bundle anchoring system separate.
Acrylic dipped, 4 panel light – NO PVC TUBES to crack or trap moisture
Metal Frame – Dissipates heat, tough and rugged
33 foot cord (we can add more cord for a fee).
High Definition LED, vibrant light field
What happen if the stainless button gets ripped off wire? We send you free replacements. Two screws and your back in business.
Manufacture Warranty – 2 years (Warranty is based on extreme usage
IMPORTANT LINKS – CAPT LEE'S TRAINING VIDEOS
MACDADDY SMART LIGHT™ – WHAT HAPPENS IF PLASTIC ENDS CRACK ?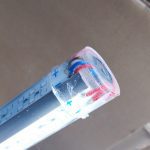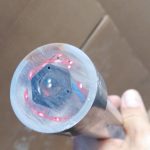 NO LEAKING – SOLID ACYRLIC FILLED, others will tell you the plastic end cap will crack and leak. We removed the cap and submerged this light for a week, and no leaks. We took a mitre saw and cut the cap to show you solid plug, spiral lights cannot offer this kind of engineering.
MARKER69.COM SHRIMPING LIGHTS FOR SALE & NET STORE
Click Here  – For MacDaddy Smart Fishing Light™ &  MONO Gear Stre:
Note: Seasonal store call anyways to check on availability (May-Oct)  (386)334-4504.
FACEBOOK SHRIMPING/SCALLOPING INTEL
Scalloping reports on Facebook at the "Florida Shrimping Academy – Tips & Tricks™". CLICK HERE. This is the largest group for shrimping, scalloping, lobstering and gator hunting.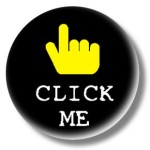 CLICK BUTTON TO

 GO TO Marker69.com ONLINE STORE
Marker69.com on-line store is exclusive distributor