DIY Fishing Lights & Shrimp Light
Want to build your own DIY fishing lights and shrimp light?
The Academy Of Shrimping was built by networking other anglers in a safe friendly environment. We celebrated 5 years of networking December 2014 and let me share a DIY from one of our forum members, "Brian".
DIY Fishing Lighst & Shrimping Light Parts List:
1ea 2.5″ PVC White End Cap Sch40 (Florida Irrigation $3)

1ea 12″ x 2.5″ PVC Clear Pipe (Ryan Herco $90/10ft, $9 per ft)

2ea 2″to1.5″ PVC Bushing (Ace Hardware $2ea)

1ea 2.5″to1″NPT PVC Bushing (Ryan Herco $3)

1ea 1″to 1/2″ NPT PVC Bushing (Ryan Herco $1)

1ea 12″x1.5″ PVC White Sch40 Pipe (Ace Hardware $1)

1ea 2.5″ PVC Coupling (Florida Irrigation $3)

1ea Cable Grip with 1/2 NPT threaded end (Southern Electric $5)

40lf SJOW 2W 16/2 Bulk Cable (Ace Hardware $28)

1ea LED Green light strip 60 led's, middle brightness (Superbrightleds.com $32)
DIY Fishing Lights Miscellaneous Parts
3m 5200 3oz (West Marine $12)

Pipe glue and cleaner (Ace Hardware $12)

Heat Shrink (Ace Hardware $3)
DIY Fishing Lights Prices NOT current: Research prices
2010 pricing – Total $195 (having to buy 10ft clear pipe and other bulk items)

Now costs around $35 in 2014, can buy in smaller quantities
Extract the build map, and source your own parts using Amazon etc.
You can buy 2.5 in clear pvc at Grainger.com 

12.95 for 3ft or 18.95 for 6ft

You can buy 1 foot sections at FlexPvc.com

People buy LED's on ebay too
Let's begin the DIY fishing lights & shrimping light build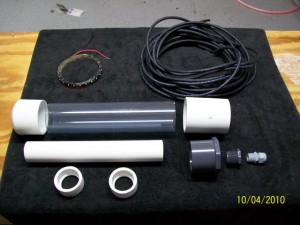 Glue on 1 end cap
Construct center light support, grind down angular corners on outside bushings making outside round
Ryan herco clear PVC has a blue hue to it, but does not appear to affect brightness
You can click on these thumbnail pics to see larger size
Note: By doing this, the outside diameter of the 2″x1.5″ bushing was just about a perfect fit for the inside of the 2.5″ clear pvc pipe.  I glued one on each end.
Here are a couple of shots showing how the smaller pipe fits within the larger clear pipe. Here I add the LED strip light to the inner pipe.  I put some tape to mark the visible area on the inner pipe. Here is a shot of the LED light strip. Click on thumbnail pics to enlarge.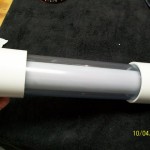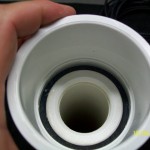 The LED light strip comes backed with a peel and stick backing. Here is a shot with the LED light strip installed and attached to as 12v power source.
Here I drilled a hole for the wire to pass through.  Although I don't show it here, I did use 3M 5200 marine sealant through this penetration to seal it water tight.   Here the inside 1.5″ pipe is re-installed in the clear pipe for a test fit.
This next shot shows that I sealed the inner pipe to the outer pipe.  Not shown here is the sealant on the other end.  This creates a water tight chamber where the lights are in the event of a breech at the wire entry point at the cable grip.
Here I assemble the end where the power cable will enter.  A cable grip basically constricts around the cable and creates a water tight seal when the crown is screwed down….supposedly to 300ft.  I sealed it with 5200 anyway. Both inside and out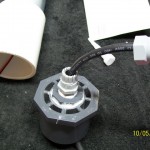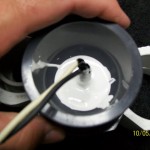 Soldered the wires together and used heat shrink.  This may seem out of order with a previous picture showing me sealing the interior pipe to the outer pipe.  You would be right……mistakes happen the first go around.
Finished Product –