Shrimp Reports Volusia County
Summer shrimping is seasonal in Central Florida (Volusia County). The white shrimp run during the day and are caught by deploying a cast net. The season typically starts June/July and can last from weeks to months in the S. Daytona Beach area.
If you want to monitor local shrimp reports. You have to take the time to register, if you do not the links to the reports at the bottom of the page will block you from the intel.
What Are Summer Shrimp? – The summer shrimp are known as the "white" or "grey" specie and also known as the mud shrimp. Their signature tail is blue and green, they molt a lot and can be soft feeling. Their antennae are much longer than Oak hill winter brown & pink species.
Where Do They Live? – Summer shrimp are bottom dwellers, crawl along the mud, rarely swim mid column or top. Boaters locate the troops on their depth finder and cast net into the mark. See pictures below
How Far South Are They Found? – They can be caught between Ponce Inlet and Matanzas inlet to  Jacksonville extending into Georgia.
VOLUSIA HOT SPOTS: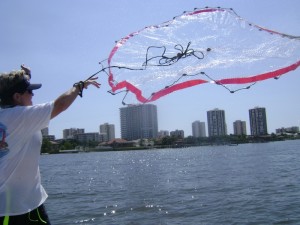 Intercoastal way from S. Daytona (Big Tree area) North to Georgia. Channel markers 42-51 are the popular ones in Volusia County. Shrimp appear late June to early July.
They do not stay long and can leave the area in a matter of weeks. Shrimp are caught during outgoing tide using a cast net with a duck tape webbing added (see left pic), or a sewn in webbing to keep the net open longer (see pink net below picture)
When To Go? – Daytime in boats or on piers and at night time at Granada Pier, capitalize on stronger current tides due to full moon and new moons and after rain fall to help flush them out.
Where – Anywhere from inlet to inlet, popular places are north of Granada Bridge, High Bridge, SR 100, Big Tree. Once they leave the Flagler they head to Jacksonville and stay through October sometimes.
Where Do They Live? – Daytime shrimp, mud up in the evenings in the mud and grass flats, shallows; they migrate into the deeper water of the channel when the sun comes up traveling with the current; some exit the inlet and some never leave
How Long Is The Season? – June thru Sept/Oct, Occasionally year round
What Gear Do I Need? – Cast net (webbing preferred), boat, bucket, depth finder, (pier under Granada Bridge in Ormond). Bring a culling bucket to drop the net contents into and sort out the unwanted by catch (bait fish, fish, jellies etc.) and return back to the river.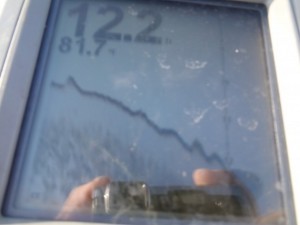 How Do You Locate Them? Using a depth finder on your boat – any depth finder will work, cheap ones work fine, many prefer pixels (dots), looking for dots grouped together on the bottom
Note: Jagged Line is bottom, white above it means NO SHRIMP in water column, do NOT cast
This picture (below to the right) shows the bottom and a small "troop" (cluster) on the river bottom. Look at the thickest part of the jagged line, the thick part signal shrimp movement.  If you cast on this small cluster you will get "few" shrimp because the troop is small.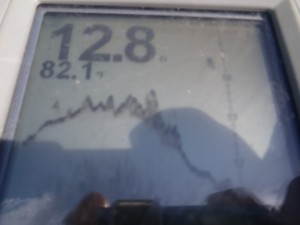 Compare the NO shrimp picture to this picture showing small amount of shrimp.
Do I Need A License? –  Yes, you need a saltwater fishing license required and cannot possess more than 5 gallons landed with heads on per boat per day.
What Does a LOT of Shrimp On Sonar Look Like?
When you see a ton of dots on your sonar make sure the "troops" are on the bottom. If the cloud of activity your seeing is higher in the water column chances are that cloud of activity is bait fish (white shrimp crawl more than they swim). Sometimes you should cast on higher marks because the shrimp can be mixed in with bait fish (menhaden etc.). Especially when the marks extend to the bottom structure.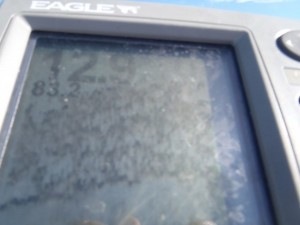 As you can see this sonar (picture to the left) is "lit" up with a huge amount of shrimp passing around this boat. Study these 3 sonar pictures and set your sonar to high "sensitivity" in your settings.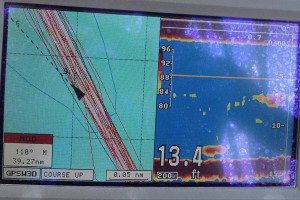 This is the most common sonar diagram for color devices. Note the thick dark red bottom below the depth number showing 13.4 ft.
The shrimp is the "cloud" next to the number "4" in the 13.4 depth number. It is oval and right at the bottom line. Those are shrimp. The other red and orange "clouds" way above the bottom line are most likely bait but sometimes shrimp is mixed in with the by-catch.
FACEBOOK SHRIMPING/SCALLOPING INTEL
Scalloping reports on Facebook at the "Florida Shrimping Academy – Tips & Tricks™". CLICK HERE. This is the largest group for shrimping, scalloping, lobstering and gator hunting.