Capt Lee Noga – About
Catching shrimp was made popular in 2010 when Capt Lee Noga claimed she could take any angler from zero to hero in under an hour.
A female licensed USCG OUPV 6 pack Captain from Edgewater, Florida, 2008.
Capt Lee Noga started a shrimping message board community in 2010 to post her personal shrimp reports for her friends. This website went viral. It was known as the "Academy Of Shrimping"  message board.
Social media changed the way we learned, so she moved the Academy Of Shrimping to Facebook.
For intel and interact with other shrimpers, go to our Florida Shrimping Academy™ – Tips & Tricks . For hours of in depth educational video's, go to our Academy Capt Lee Noga Facebook page.
Why did she start a shrimping report site in 2010?
When she wanted to learn this sport nobody would help her. She towed many times doing 60 mile round trips just to catch less than a dozen shrimp. There were no educational resources where she could teach herself the sport. It was then she decided to create an shrimping educational resource site and spare any angler the frustration she endured 16 years ago.
Academy Of Shrimping has over 15,000+ members in the Academy's Facebook group (Florida Shrimping Academy – Tips & Tricks, if you want to search Facebook).
The "go to" place for everything "angling" (not hook and line) in the State of Florida. Area of interests are shrimping, scalloping, lobstering and gator hunting. We also share our fishing pictures and as a community answer as many questions as we can for the the State of Florida .
Capt Lee Noga tours Central Florida doing a few free seminars at various fishing venues and clubs. Get their early, her shrimping seminars book out quickly. Even tho' they are free, space is limited. You can arrange to have her teach at your venue by calling (386)479-4175.
TV MEDIA EXPOSURE WITH CAPT LEE NOGA (female)
HowToDoFlorida.com TV Show (FOX Sports Network) – 2016
T
his TV is show host Chad Crawford and Capt Lee Noga who mentor both Chad and his son Chase on how to shrimp in Oak Hill, Florida. This show aired 8/7/2016 WFTV Channel 9, the show will be posted as video on their website you can stream on demand. It repeats and can be found on YOUTUBE.
Capt L

ee Noga has been featured on the TV show, "Average Anglers" Bright House sports cable TV network in 2011. The show covered the art of summer shrimping in Daytona Beach. This show still repeats from time to time on Sunday nights at 7pm.
MEDIA RADIO
American Warrior radio 2015
Guest in April 2015 discussing the mission of Capt Lee Noga. Fast forward video to 9:30 seconds. She discusses the evolution of shrimping and pledges long term commitment to evolving sport.
MEDIA MAGAZINE ARTICLES – 
C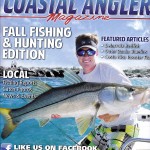 urrently, Capt Lee Noga writes for 3 regions of Coastal Angler Magazine. These regions include Orlando, Volusia County and Brevard County. She has been writing this popular column since 2008. Column covers whats going on in the area that is NOT hook and line (shrimping, scalloping,  lobstering and gator hunting).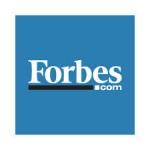 Forbes magazine released an article on Forbes.com on 11 September 2014 featuring Capt Lee Noga. It is a story of courage & tragedy. The price she has paid to evolve the sport of shrimping as a woman in a man's sport.
Florida Sportsman print magazine covered Capt Lee Noga in Sept 2011, "Rise Of The Prawns" by Peter Slis.  Florida Sportsman print magazine August 2013 & 2014 – "Hot White Summer Shrimp" by Peter Slis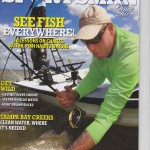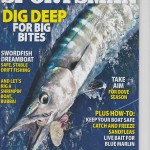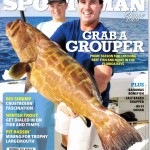 MEDIA NEWSPAPER COVERAGE – 
L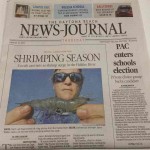 ead story August 21st, 2014, News Journal newspaper front page. Capt Lee was asked to take the paper out to show them how summer cast net shrimping is done in Daytona. She is considered to be the media expert.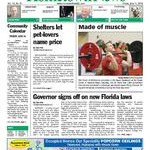 Dan Smith a popular Volusia County weekly angler columnist has talked about Capt Lee Noga on a few occasions in his column for the Hometown News.
FACEBOOK SHRIMPING/SCALLOPING INTEL
Scalloping reports on Facebook at the "Florida Shrimping Academy – Tips & Tricks™". CLICK HERE. This is the largest group for shrimping, scalloping, lobstering and gator hunting. Interact with Capt Lee Noga
SOCIAL MEDIA LINKS