Frame Net Box Net Florida Law
Frame net box net Florida law states MONO-FILAMENT is s are illegal for any net besides cast nets and landing/dip nets. Mono is considered an entanglement device. Frame and Box nets must be constructed of cotton, nylon or polypropylene materials only. This is a Florida constitutional law that will be enforced by FWC.
Illegal Box and Frame Net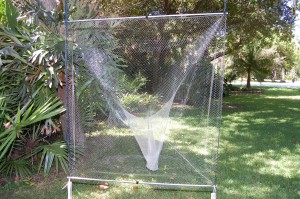 made of  mono, FWC was relaxed about enforcing this law in parts of Florida for over a decade.
In 2015, FWC started a year of education giving the community a chance to comply with the law on record. They have made it clear that they will be enforcing this law and writing tickets.
THE LAW  – 68B-4.0081
68B-4.0081 Statewide Net Gear Specifications; Soaking Requirements; Definitions; Cast Net Specifications.
(1) This rule is intended to implement prohibitions and restrictions of Article X, Section 16 of the Florida Constitution. As used there and in this rule, the term "net" or "netting" shall be broadly construed to include all manner or combination of mesh or webbing or any other solid or semisolid fabric or other material used to comprise a device that is used to take or harvest marine life.
(2) The following gear specifications shall apply in all state waters:
(a) The use or placement in the water of any gill or entangling nets of any size is prohibited.
(b)
Any net constructed wholly or partially of

mono-filament

or

multistrand mono-filament

material, other than a hand thrown cast net, or a handheld landing or dip net, shall be considered an entangling net prohibited by Article X, Section 16 of the Florida Constitution, and this rule, unless otherwise authorized by rule of the Commission
. The term "multi-strand mono-filament" does not include braided or twisted twines made of nylon, cotton, linen, or polypropylene.
Capt Lee Noga got this law information from  — lisa.gregg@MyFWC.com
Lisa Gregg
Programs and Policy Coordinator
Florida fish and Wildlife Conservation Commission
Division of Marine Fisheries Management
Marker69.com will carry replacement bags and full frame nets made of green  polypropylene and white nylon.
Capt Lee prefers the nylon material over polypropylene. The green polypropylene bag will out last the nylon bags due to the heavy material. Capt Lee prefers recreational anglers go with the white nylon. She believes if any of your dipping lights are in the area of the box net they will illuminate the net causing shadowing. The shrimp will see the net and avoid. The poly net fishes well in 100% darkness.
FACEBOOK SHRIMPING/SCALLOPING INTEL
Scalloping reports on Facebook at the "Florida Shrimping Academy – Tips & Tricks™". CLICK HERE. This is the largest group for shrimping, scalloping, lobstering and gator hunting. Interact with Capt Lee Noga