Shrimping Brevard County
FOR BOATERS (Piers listed below at bottom)
Haulover Canal
LOCATION.--Lat 28°44'10", long 80°45'18",referenced to North American Datum of 1927, in SE ¼ sec.19, T.20 S., R.36 E., Brevard County, FL, Hydrologic Unit 03080202, on the right bank, under the bridge on Kennedy Parkway, 8.7 mi south of the intersection of U.S. Highway 1 and Kennedy Parkway, and 7.3 mi northeast of Mims. Located in the Merritt Island Refuge.

Ramp Locations:  Click Here –  RAMPS
The popular fishing spots are by the bridge fenders for redfish & black drum. Shrimpers tend to drop back from the bridge and shrimp near the shore lines.
How to read Haulover Flow Data – Click Diagram below

Click Here to go to –>Haulover Canal Data Flow Chart
Tip: The numbers with a (-) negative symbol in the flow chart represents a NEGATIVE FLOW, you always want to shrimp on a positive flow if possible with the flow rate around 1000-3000.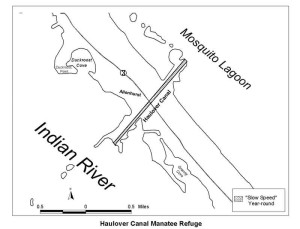 The canal is NOT tidal driven and is driven by winds. The canal will either flow POSITIVE (East from Indian River towards Mosquito Lagoon) or NEGATIVE (from Mosquito Lagoon West towards Indian River). This is a small piece of real estate, and can accompany about 50 boats max but 10 boats are about the max for the hotspots. The ramp is concrete and steep decline. The parking lot has had problems over the years with theft. We are told there is street lighting now. There is a fee to  fish in the refuge, click here to read —

Haulover Tip, Tricks & Recommendations:
Get there very early to get a spot
Don't play loud music or use generator powered shrimp lights
Anchors are easily lost here in the cables and mats, bring spares and knife to cut away
Run your shrimp lights down your anchor lines due to the "snaggy" bottom. See picture on right.
Bring fishing rod, there are some mammoth size drum and redfish there over Jan-April.
Bring crap net, you can limit on blue crabs while shrimping Jan-March
Shrimp on a positive data flow < 3500
Canal is wind driven and not tidal
Bugs are #1 problem that keep anglers away at night
Need a saltwater fishing license & Merritt Island permit to fish these waters
5 gallon limit per boat over 24 hour period, no 11:59pm and 12:01am game
Railroad Bridge (Titusville)



Coordinates:
| | |
| --- | --- |
| Latitude | 28° 39″ 4′ |
| Longitude | -80° 48″ 24′ |
Popular Ramp Location: Parrish Park, Merrit Island Refuge Titusville
Railroad bridge has a North and a South side. You want to shrimp on the side that is NOT getting hit by the wind. If the wind is blowing from North, setup on South side and vice verse. Drop back from the pilings
The shrimp are quite large at Haulover Canal and Railroad bridge because they shrimp are land locked and never swim towards Sebastian or Ponce Inlet. The salinity is 32ppm and the shrimp think they are in the ocean. Since they are not constantly migrating, they grow to be quite large compared to Mosquito Lagoon Oak Hill & Edgewater area. Those shrimp pass through those cities on the way to Ponce Inlet and do not stay around long enough to grow up.
When Railroad Bridge (RRB) and Haulover Canal have a South or West wind, the large Indian River shrimp push thru Haulover Canal into Mosquito Lagoon and migrate towards Ponce Inlet giving those in Oak Hill a real thrill of catching large to jumbo shrimp. The cold fronts produce a South wind or rising boundaries before turning North once the front passes. The water stacks up and has no where to go and is forced to relieve the build up by pushing positive through  Haulover Canal.
Tips & Tricks & Recommendations
Setup on the the side the wind is NOT blowing towards
Drop your boat back from pilings
Multiple boats crowd into this area and share light fields
Careful of your anchors getting tangled and cut away
Wind driven area, not tidal
Can shrimp as long as you want as long as its dark
Never know when they will run and stop
Favorite hot spot, preferred over Haulover Canal
Fenders hold some 30lb & up mammoth black drum, use #100lb mono line
Need a saltwater fishing license & Merritt Island permit to fish these waters
5 gallon limit per boat over 24 hour period, no 11:59pm and 12:01am game
Carry a knife to cut away strong rope lines in case  of emergency
TITUSVILLE PIER –
The most popular pier in Central Florida. This pier is located at the base of the Max Brewer Bridge on the same property as the famous restaurant/bar, Cracker Jacks. The address is at the east end of S.R. 406/Garden St. spanning the Indian River.
Titusville Pier Video (Click Here) – Everything You Wanted To See & Know through the eyes of Capt Lee Noga

FACEBOOK SHRIMPING/SCALLOPING INTEL
Scalloping reports on Facebook at the "Florida Shrimping Academy – Tips & Tricks™". CLICK HERE. This is the largest group for shrimping, scalloping, lobstering and gator hunting.

WEBSITE VISITOR'S –