FISHING SHRIMPING & HUNTING FLORIDA

Fishing Inshore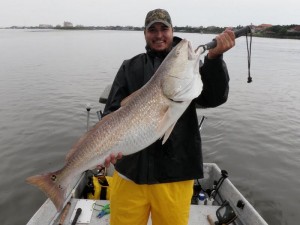 Members at the Academy of Shrimping post reports from several locations in Florida. The popular areas are flat fishing in Mosquito Lagoon due to the sight fishing for schools of red, drum and trout. There are areas where it is a no motor zone and you will need to push pole around. You will draft some skinny water and you must pay attention to the falling tide to ensure your able to get back out to deeper water. Using a GPS is a good idea if you are going into the flats for the first time. The flats can be quite disorienting and some spend the night if the tide falls to fast and they run out of water to get back to port.
Gigging for flounder or trolling the ICW for tarpon, you can boat a slot grouper if you go just South of CM 10 and just cross over into Brevard waters. Oak Hill and Edgewater (launching from Riverbreeze ramp) hold a lot of fish off the clinker islands in the main channel. Cast net for some mullet near the ramp.
Fishing Offshore
Ponce & Sebastian Inlet are the 2 most popular jetties to fish. If you do not own a boat, we highly recommend you give Sebastian Inlet a try and enjoy their long winding metal jetty. Be prepared to get splashed from beneath. Ponce Inlet has a park and concrete pier but the pier does not take you as far out as Sebastian's does. You can walk on the rocks at Ponce but many have fallen crawling around the jetty rocks. DO NOT attempt this with any high winds.
If you have a boat, Port Canaveral is the most popular port to to go offshore, 8A reef is a popular destination. Blue water is close to 35-40 miles out.
Ponce Inlet has mile 5 as a popular bottom stop on the way to blue water and trolling for the bigger fish. The mouth of Ponce is not as dangerous as Sebastian inlet. Big reds and drums, tarpons and sheepshead hang around the inlets. Sebastian is known for their high population of snook.
FACEBOOK SHRIMPING/SCALLOPING INTEL
Scalloping reports on Facebook at the "Florida Shrimping Academy – Tips & Tricks™". CLICK HERE. This is the largest group for shrimping, scalloping, lobstering and gator hunting.

WEBSITE VISITOR'S – OLD INTEL GIVES LOCATIONS