SHRIMP DIP NETS FOR SALE, Shrimp Nets, Shrimping Nets
Shrimp nets are for sale in various parts of Florida. However, Central Florida has the strongest run in the winter shrimp and we have mastered the art of shrimp net making.
Marker69.com™ is the only company to offer you the lightweight anodized aluminum handle dip and bridge nets. Don't hurt your back and tear your shoulders swinging the old fashion heavy dip net handles. These handles are 50% lighter giving you more speed through the water reducing the chance of injury. The anodized aluminum is the gear choice, of pro angler, Capt Lee Noga
Marker69.com™  makes these shrimp nets for sale at Central Florida Oak Hill flea market on Sundays (Nov-May) along with collapsible frame nets box nets and MacDaddy Smart Light™ shrimp lights. Call Jan (386)334-4504 . Local delivery in Edgewater, Oak Hill and New Smyrna by appt. only, call Jan. All credit cards accepted, sales tax charge extra.
We also can ship just the rim with the sock threaded on for those in other regions. The shipping carriers will not allow us to ship the hoop with an 8 foot handle. So we are setup to send you the most important part, the hoop and sock. An example of cost -2 hoops with socks sent to Miami runs about $28 shipping UPS, and take about a day to arrive.
The LAW
The law specifies your dipping net hoop can not be more than 30" in diameter. Shrimp nets can be bought in both 24" and 30" hoops. These nets are hand made and the hoop opening can vary between 24-30 inches. If possible, ensure you buy shrimp nets that have a 30″ hoop.The net handles come in 8 or 10 ft lengths. You can have them made in 2 sections if you want to dip from relief bridges or piers. Marker69.com offers the most advanced pier net using a twist lock system to adjust and lockdown the length. Boating dip nets and bridge nets are anodized aluminum.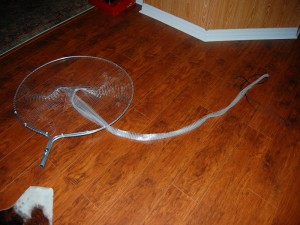 You can cut down the handle, if necessary. Be careful when buying new shrimp nets from local bait stores. Some nets have different mesh sizes. When you buy your shrimp nets, ask them if the net is 3/8″ mesh. Shrimp nets are rarely made with larger mesh, but we have seen consumers accidentally end up with a mesh size (1/2″) that culled out the small shrimp. Some prefer to keep the small ones for bait (opt for the 3/8″)
The other part of the shrimp nets construction is the neck area. This is where the hoop feeds into the pipe end and is bolted in. It is this area that separates a good net from a cheap net. Always buy a net with a re-enforced neck. The bottom of the sock should have a quick release gizmo. Each net builder has a different way to quick release, as long as it works that is the main point.
During full and new moon events, the Earth tilts 3 degrees pushing water deep into the flats. When the tide changes the water moves out with a vengeance pulling the shrimp out.
The pressure of a strong current stresses out the neck of the hoop and can cause it to bend backwards. Over time this can weaken the neck leading to snapping the hoop off. Easy opening at end of sock
NOT ALL nets are designed to be light weight, buy ANODIZED handles sold by Marker69.com. Capt Lee Noga has spinal disease and only uses anodized dip nets.  How do we use nets? We "sweep" the shrimp as they enter our light field by laying the hoop on its side in the water and execute a sweeping motion.
When it comes to putting a new replacement sock on, using cable ties is fine. We never plan our mono rips, and you should always have a replacement sock on hand and a bunch of cable ties. The net threads on the hoop. If you pay for a fancy thread and have to replace your sock your going to use cable ties at some point. Easy hardware to open and close end of sock.
99.99% of the market has the inexpensive nets that run $50-$85 retail. Sometimes you will have to buy what you can find and not what you want. Try to get the longest sock you can find, ask for 6 or 7 foot sock. That is the most important feature of buying shrimp nets.
Caution, some net makers use thread, and do not thread the sock onto the metal rim which is WHAT SHOULD BE DONE. If the net is NOT threaded onto the rim, you are married to the vendor who has to sew the net onto the rim. Be independent, change your own dip nets in 20 mins. Buy a net that is threaded onto the rim and NOT held on the rim with black or green thread on the entire rim.
Links To Products in Marker 69™ Shrimp Gear Store – Click links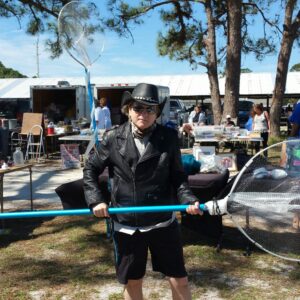 FACEBOOK SHRIMPING/SCALLOPING INTEL
Scalloping reports on Facebook at the "Florida Shrimping Academy – Tips & Tricks™". CLICK HERE. This is the largest group for shrimping, scalloping, lobstering and gator hunting.
VISITOR'S CLICK LINKS