SHRIMPING IN VOLUSIA COUNTY, FLORIDA
FOR BOATERS
Oak Hill, Florida is affectionately referred to as the "Shrimping Capital" of the East Coast. The popular channel markers South of the Riverbreeze ramp (click link left) are CM 2, 4, 5, 7, 8, 9a, 9 & 10.
Don't like to navigate at night after launching from Riverbreeze park? ? Go 500 yards South of the ramp and anchor up in front of the seawall and "White House" that is actually peach in color as of 2013. A. There is an "eddy" that t-bones into the inter-coastal water way and your sitting right in the benefits of where these two bodies of water intersect. The closest marker to this house is a green blinking 75, the next marker South is a red CM "2". Anchor about 15-20 yards from the seawall.
We have no idea why the channel marker numbering starts over as you head south. Red channel triangular sign on your right means your going South away from Ponce Inlet, the Green channel markers on your right means your heading North towards Ponce Inlet.
North of CM 2 is popular because of a long sand bar that extends out narrowing the channel. There are no real land marks, you can cruise the width and note the changes on sonar. There are maps online at NOAA on-line maps. Click link to the left. Note the narrow parts of the channel, those areas are worth noting for shrimping.
Popular channel markers South of Riverbreeze ramp are CM 4 and South. Channel marker 4 -5 is a nice narrow area to set anchor mid channel.
You gain an extra hour of tide when you are South of Lopez (Cm7-8). If you do not want to motor 1.5 miles you can launch at Lopez RV park boat ramp (private ramp) for $5 (place in envelope in box, honor system), small ramp NOT well maintained and has engine prop holes under water line. Boats larger than 17 foot risk scraping their trailer on descent due to the dirt ramp erosion. Where the concrete meets the dirt acts as a peak scraping the trailers. The erosion has caused the concrete to be exposed creating a trailer "catch" ledge.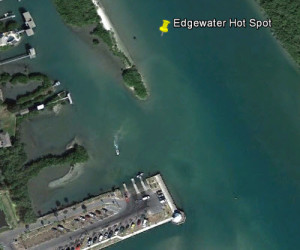 In Edgewater, Florida the popular channel markers are CM 64-68, 71-73. Many people anchor near the boat ramp on right side of the channel by the white speed sign (20 yards East of it in 10 foot of water)  . The tide changes at the Edgewater ramp 3 hours later than Ponce Inlet (i.e.- Ponce changes at 6pm, Edgewater ramp changes at 9pm). If you continue South of Edgewater ramp another 4 miles to CM 65 (popular shrimp spot), the tide changes 4.5 hours later based on Ponce Inlet tides (i.e- Ponce changes at 6pm, CM 65 changes at 10:30pm.
What is a Good Strategy On Short Tides?
A short tide is when the tides change and you do not get a full  6 hours. It is a good strategy to start in Edgewater and chase the later tide changes further South until you run out of energy or you get your full pull.
Some people dip in Edgewater, pull their boat out, tow to Riverbreeze ramp and dip another 3 hours in Oak Hill [tide difference in Oak Hill, Florida is 6 hours from Ponce Inlet tide times. (i.e.- Ponce changes at 6pm, Oak Hill changes at 12:00am midnight). Playing with tide times can help you reach a limit. Ensure you have plenty of fuel if you are going to run the river. Oak Hill is about 8 miles South of Edgewater ramp if you run the river.
NON-BOATER Volusia County – Need Pier?

500 North Causeway
New Smyrna Beach, FL 32169
The top pier for shrimping is the New Smyrna South Causeway pier (head South on Riverside drive going towards Edgewater) is a popular destination for those who love to shrimp but do not own a boat.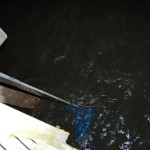 This pier requires a handle length of 18 ft. You will need to be able to extend the length of your dip net. Try to get a net with white mono, their is some speculation that a blue net (see pic) can be seen by the shrimp. Consider buying the lightweight anodized aluminum 2 piece pier net from Marker69.com
The net has a twist lock lock down for length, great stability, lightweight giving you speed with out injury.
New Symrna South Causeway Bridge
The most popular fishing & shrimping pier in New Smyrna Beach. Right under the west side of the bridge, plenty of parking. See the map below. Located on Riverside Drive.
FACEBOOK SHRIMPING/SCALLOPING INTEL
Scalloping reports on Facebook at the "Florida Shrimping Academy – Tips & Tricks™". CLICK HERE. This is the largest group for shrimping, scalloping, lobstering and gator hunting.

YUKU MEMBER's ONLY – (Click Links)