Custom Cast Nets Bait & Shrimp
The most sought after custom cast nets for bait & summer shrimp cast net is the Shumaker custom cast nets.  Ed Shumaker sews on bottom webbing to capture the summer shrimp and get them crawling towards the horn of the net. Commercial fisherman depend on the Shumaker bait net for their roe mullet, spanish mackeral and pogie hunts. These cast nets are sewn with the highest grade mono filament.
The Custom cast nets are dyed to any color you want.
Ed Shumaker is based out of Florida and ships his custom cast nets. He has over 45 years experience and one of few left that has mastered this craft. He has been in Florida Sportsman print magazine in articles in 2011 & 2013, his custom cast nets have been seen on cable TV fishing shows.
The official gear of Shrimping Pro Angler, Capt Lee Noga, Academy of Shrimping (Founder).
CALL  Ed (386)566-9097

#1 Net Requested Nationally
Mullet, Bait & Shrimp custom cast nets
Made By hand for over 45 years
Hand ties knots
The choice of commercial and recreational shrimpers
Choose dye your custom cast nets to express yourself
Choose color of webbing at the bottom of custom cast nets
LeeNoga Members- $15 per foot, $30 for bottom webbing
NON -LeeNoga Members- $18 a foot, 35 for bottom webbing
Order 4 – 12 foot nets.
Mono is 5/8 with 1.25 inch "stretch mesh
Order early, nets enter backlog during mid season
Order shrimp or bait custom cast nets
Will ship out of State or arrange for net pickup at  635 Andrews St, Ormond Beach, FL 32174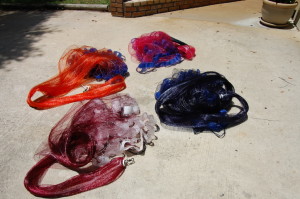 KING Of Cast Net Making…

Many years of making cast nets from personal research and development. Ed has spent countless hours diving and watching the performance of his nets opening and closing. From this research he has perfected this net from craftsmanship to performance which is why this net is the most coveted net owned by both commercial and recreational anglers.
Quick Links: