Custom Cast Nets
Custom cast nets made by iconic, Ed Shumaker, the official gear of pro angler, Captain Lee Noga. HIs custom cast nets can be seen on every boat chasing shrimp from Daytona to Jacksonville. HIs nets are requested by Alaskan commercial fisherman and commercial operations netting up mackeral, roe mullet and various other bait fish. Ed is based out of Central Florida in Ormond Beach. He ships. Recreational anglers prefer the Ed Shumaker custom made cast nets.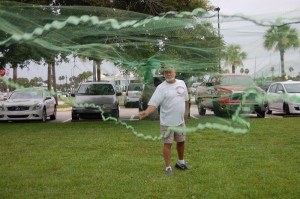 Store bought nets do not even come close to a the feel and performance of custom cast nets. Treat yourself to a custom made net in any size diameter you want, A cast net is one of your most important tools.
CALL Ed (386)566-9097

#1 Net custom cast nets requested nationally for both commercial and recreational anglers
Made by hand for over 45 years
Hand tied knots
The choice of commercial and recreational shrimpers
Shumaker custom custom nets are dyed dye to express yourself, Many choose colors of the favorite football teams.
Choose color of webbing at the bottom
Want a steep discount? Call ED and mention my name, Capt. Lee Noga
LeeNoga Members- $15 per foot v $30 for bottom webbing for shrimping custom cast nets
NON -LeeNoga Members- $18 a foot, $35 for bottom webbing
Order 4 – 14 foot nets, custom cast nets have no real limits, your only limited by the laws of your local waters
Mono is 5/8″ with 1.25 inch stretch mesh for shrimping custom cast nets to cull dinks
Order early, nets enter backlog during popular bait and shrimp season
Will ship o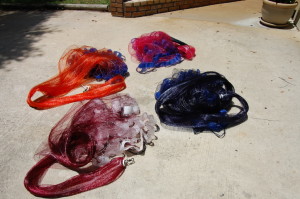 ut of state or you can arrange for net pickup at 635 Andrews St, Ormond Beach, FL 32174.
Included is a private lesson by the master builder, Ed Shumaker.
KING Of Custom Cast Nets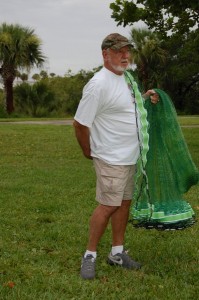 Many years of making cast nets from personal research and development. Ed Shumaker has spent countless hours diving and watching the performance of his nets opening and closing. From this research he has perfected this net from craftsmanship to performance which is why this net is the most coveted net owned by both commercial and recreational anglers.
Shumaker Custom Cast Nets Video – Deploying His Net
FACEBOOK SHRIMPING/SCALLOPING INTEL
Scalloping reports on Facebook at the "Florida Shrimping Academy – Tips & Tricks™". CLICK HERE. This is the largest group for shrimping, scalloping, lobstering and gator hunting.

WEBSITE VISITOR'S – OLD INTEL GIVES LOCATIONS