Shrimping Seminar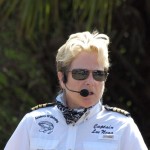 Learn the techniques that will help you capitalize on your share of the winter brown shrimp season. Technology advancements allows us to apply science with skill to increase and maximize our harvests. Setting the light (kill zone) is the most important skill you need to go from zero to hero.  
Capt. Lee's shrimping seminar will give you the best winter shrimping tips, techniques, locations, technology advancements and strategies for Central Florida.
From gear deployment to gear choices, this is #1 requested angler shrimping seminar in Central Florida.
For Shrimping Seminar Bookings please schedule months in advance (if possible) due to the popularity and demand for this shrimping  seminar. Book directly with Captain Lee – Call (386)479-4175.
         

2015-2016

– NO Seminars booked at this time, check back in                                               December