Shrimping Frame Net Review
The Shrimping frame net have had a constitutional law come into play in 2015. We used to make these shrimping frame nets out of mono-filament. The mono material has been outlawed and we were given the option of making these nets out of either cotton, nylon, linen or polypropylene.
Capt Lee Noga believes nylon is the best alternative to mono.
LAW CHANGE ON Shrimping Frame Nets – CLICK HERE TO READ
Shrimping Frame Net Specifications:  Roll up & collapsible for easy transport and stowing
HD  = (heavy duty commercial grade) 3/8″ mesh which stretches to 1″
HD is the top model of frame nets.
4×4 foot  in diameter, 1/2″ top metal bar & 1″ lead filled bottom bar, 3/16″ rope sides.
Attach to boat cleats with (2) 12 foot lines (included)
Intended for heavy use vs our other models intended for lighter use
2015 Legal compliant polypropylene or nylon material (both Florida legal as of 2015)
15 foot sock frame net, 3/8″ mesh for those who want a lighter net (no seams), crab ball
Two 12 ft. lines to attach to boat, or combine the 2 into 1, your modification options
These 2 lines are to bring stability to reduce the net from twisting in the tide
You can bridle the 2 together 7 foot away from the net if you choose
Lead weight poured into 1″ lower bar for 20 foot heavy duty net
Clip on weights both sides of net for light duty net
Sides of  frame net, 3/16″ blended black line
Engineered to reduce twist in the tide, weighted evenly vs. center weighting
No obstructions in front of opening to spook shrimp
First  collapsible net to be 1 piece and weighted to reduce twisting
First collapsible net to remove the rope obstruction down he middle of the frame
Quick opening at bottom of sock for quick dumping.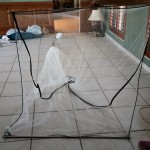 The Academy invited him to bring his shrimping frame nets back to the marketplace and he had done so and his products do not disappoint. In addition, he is offering 24″ and 30″ dip nets, so that the consumer can buy all their equipment at 1 place without the hassle of having to go all around Florida putting it together.
T
The commercial grade 30 foot sock has the lead poured in the lower bar and this makes this net more physically challenging, if this is a concern.
YouTube Video of Capt Lee Noga's Set
I pipe my frame net away from my boat. I use galvanize pipe, SS rings, SS o-rings adjustible, brass clips, electrical tape to cover adjustible O-rings to make them less snaggy once installed.
Enjoy the video: Subscribe to my YouTube channel for more educational video's coming.
What do I like about the Shumaker SHRIMPING Frame net?
The 4 x 4 foot opening does NOT have a rope down the center of the opening of the net, O'Brian net does and this annoys consumers.
The bag is 1 piece and not 2 pieces joined together with a seam that bunches up, O'Brian is 2 pieces which causes a constriction point blocking shrimp getting into end of bag.
Lead Weight Poured Into Lower Bar – O'Brian is a hung weight only and can be dropped into river
2 lines to cleat (left and right side of boat, for stability), you can bridle if you want. O'Brian has 1 line which twists his net in the current.
Crab Ball extends 6 foot beyond end of bag to ensure nobody runs it over. O'Brian's attached to cleat line and does not extend beyond end of bottom sack.
Engineered to REDUCE the metal bar ends getting caught in mono causing rips. O'Brian net twists due to center weight and 1 line attachment
These are the innovative changes over the first generation collapsible net. Ed Shumaker made the first collapsible frame net in the 70's. He left the business and returned back in 2013 to bring our industry a continued evolution & much improved mono filament products.
Shumaker HD frame net is the official gear of Pro Angler, Captain Lee Noga, founder of the Academy of Shrimping.
Why Buy From Marker69.COM?
State Of The Art Equipment
Capt Lee scrutinizes the quality sourcing only the best materials.
Carries TOP of the line equipment, gear evolves and improves
We stock CURRENT up to date equipment
We will let you pick it up locally (386)334-4504
We accept ALL credit cards
6 months free financing via PayPal "Bill Me Later"
We can ship anywhere in 50″ tube box
Shipping  to S. Florida
Buy all your equipment at 1 place
Come see the products at Oak Hill Flea Market Sundays 8-1230pm Nov to May
Call (386)334-4504 for gear inquiries
Proceeds go to the supporting the Academy Of Shrimping™
FACEBOOK SHRIMPING/SCALLOPING INTEL
Scalloping reports on Facebook at the "Florida Shrimping Academy – Tips & Tricks™". CLICK HERE. This is the largest group for shrimping, scalloping, lobstering and gator hunting.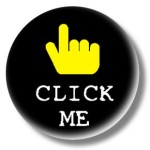 Marker69.com on-line store is exclusive Shumaker Dip Net distributor