WINTER SHRIMPING DIP NETS
The law specifies your dipping net hoop can not be more than 30" in diameter. Dip nets can be bought in both 24" and 30" hoops. These nets are hand made and the hoop opening can vary between 24-30 inches. If possible, ensure you buy a dip net that has a 30″ hoop.The handles come in 8 or 10 ft lengths. You can have them made in 2 sections if you want to dip from relief bridges or piers.
You can cut down the handle, if necessary. Be careful when buying new dip nets from local bait stores. Some nets have different mesh sizes. When you buy your dip net, ask them if the net is 3/8″ mesh. Dip nets are rarely made with larger mesh, but we have seen consumers accidentally end up with a mesh size that culled out the small shrimp. Some prefer to keep the small ones for bait.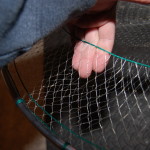 The newest concept to have on your dip net is a "fence" (brought to market in 2010). This mono-filament fence knocks down the back flipping shrimp who try to get out of the net sock. You will NOT find the fence on dip nets in any bait or hardware store.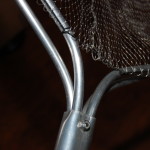 The other part of the dip net construction is the neck area. This is where the hoop feeds into the pipe end and is bolted in. It is this area that separates a good net from a cheap net.
During full and new moon events, the Earth tilts 3 degrees pushing water deep into the flats. When the tide changes the water moves out with a vengeance pulling the shrimp out.
The pressure of a strong current stresses out the neck of the hoop and can cause it to bend backwards. Over time this can weaken the neck leading to snapping the hoop off.
These nets are designed to be light weight. We "sweep" the shrimp as they enter our light field by laying the hoop on its side in the water.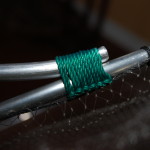 The last signature feature to a well made dip net is the threading used. Some net makers use cable ties or a "weaK" way to attach the dip sock to the aluminum hoop.
99.99% of the market has the inexpensive nets that run $50-$85 retail. Sometimes you will have to buy what you can find and not what you want. Try to get the longest sock you can find, ask for 6 or 7 foot sock. That is the most important feature of buying a dip net.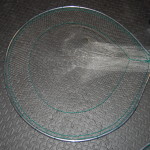 Capt. Lee is trying to source builders for the fence option. It is a nice feature but sometimes it can work against you. If you see a fenced net, pick one up but do not get crazy looking for one, its not that important.
For women and children, you may prefer a standard net with 1″ handle vs. the power dip net handle (1.25) handle with the re-enforced neck. Sometimes a smaller hoop circumference is desired. The men can generally pull through the stronger current easier than women and children. A fence is also recommended because if you cannot pull thru the strong current causing the to shrimp escape.
YUKU MEMBER's ONLY – (Click Links)
What is Full Yuku Member? How do I join?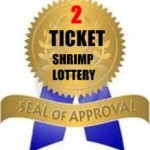 The message community forum "Academy Of Shrimping" forum has been established since 2010.
The site is free and driven by the concept, "Give Your Reports & Read Our Reports". We maintain and build out our mission statement using member donations only. We teach both on-line and do free seminars through out several local fishing club venues. Check my tour schedule for a seminar near you.

We reward reports by giving you lottery tickets into a report lottery tournament where we draw for prizes.
Costa Del Mar Sunglasses (donated)
MacDaddy GW 60/60 Shrimp light (green/white) (donated)
Custom Made Metal/Double Stitched Bimini Top (donated)
Additional Prizes as Donated
Once you sign up with YUKU, and answer your confirmation email (check spam filters) you must return to my forum and make a public post in any topic.Yuku has control over your personal sign up information, I have no access to it or your passwords. Look at Yuku as the landlord and my forum as the apartment I rent. I own my forum but not my members information.
Making this required post tells us you are a real person and not a robot or spammer. Once you make a public post the message board will automatically bump your account status to full which will give you access to 100% of the forums.
Want to read a "make first post" tutorial before actually making your first post? Click Here.
Yuku Problems? Signing Up? Making first post? Can't access reports? Email: Capt Lee Noga
Mobile Platform tutorial for access to forum message board. Click here for Apple/Android smartphone app tutorial information and install instructions.
Want to sign up and be a registered YUKU member & read other member's daily shrimp reports?

Click here